Cimmerian Caves V2
For more information on ordering, please visit our Ordering page.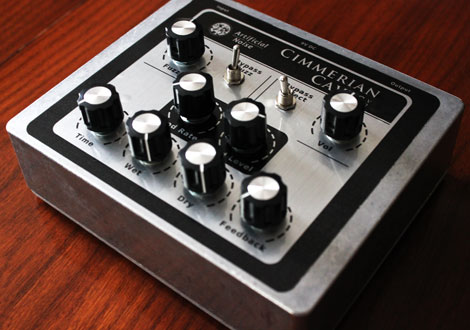 Cimmerian Caves V2
Echo/Vibrato/Chorus + Fuzz
Dark, warbly and tape-like. Dense modulating echo's. Thick, woolly tube-like distortion. Definitely NOT one of those sterile clean delays, but warm and full of character.
When the poet Homer talked of Cimmeria, he called it the land of fog and darkness at the edge of Hades. Artificial Noise took those words as inspiration for the original Cimmerian Cave effects unit and now the Cimmerian Caves is back! Streamlined and with subtle but important circuit improvements, the Cimmerian Caves V2 gives you the same warm, warbly echo, chorus, vibrato and fuzz as the original but with a more affordable price and a more compact design
Consisting of a tape-like Echo unit (approx. 925ms max delay time) which, depending on the setting can also be used as Vibrato or Chorus. Along with the Echo effect there is also a thick and woolly Fuzz/distortion. Highly tweak-able with 8 knobs, Cimmerian Caves is a hybrid of analog and digital circuitry. Utilizing a digital delay to get a nice long echo (nearly one full second), with the remaining circuitry all analog, including the Low-Pass filters, modulations and fuzz to create a stange, otherworldly sounding effect.
Along with the standard line level 1/4" inputs and outputs, the Cimmerian Caves V2 also has 1/8" modular inputs and outputs. These allow for the 'hotter' Eurorack signals to be used with the Cimmerian Caves, lowering the input to avoid distortion and raising the output level back to the hotter modular signal.
Cimmerian Caves works great with synthesizers and drum machines, but it also works perfectly well with guitar and bass!
Ships with 9v power supply (region specific)
Order via PayPal
Thanks to everyone who ordered! The last batch is now complete, if you would like to be put on the list for the next batch please Contact Us.
$269 + Shipping